close
Bitcoin (BTC) Could Be On The Verge Of A Big Move Past $8,300
Bitcoin (BTC) is on the verge of a big move. This move is very likely to be past the resistance that the price has been testing for a while now. A big move to the upside from current levels might see BTC/USD rally towards the 200 EMA on the 4H chart. It is likely to find temporary resistance there but it is eventually expected to rally towards the 38.2% and then the 61.8% fib retracement levels. RSI on the 4H time frame indicates that there is ample room for such a move. Stochastic RSI has also seen a bullish crossover and the price seems to be just stalling this long awaited move. There is still a lot of indecision that is evident in the price action.

Whether this is organic or staged remains unknown but it is clear that the market makers would not want many bulls riding the price upwards from here. We have seen double edged swords on the BTC/USD chart that have been liquidating positions on both sides and discouraging traders from entering margined longs and challenging them to enter more shorts. The price is out of the falling wedge as we can see on the 4H chart but we could still see a move down to the top of the trend line support that is the top of the falling wedge again. That being said, such a move would be inconsequential and it would only delay the inevitable.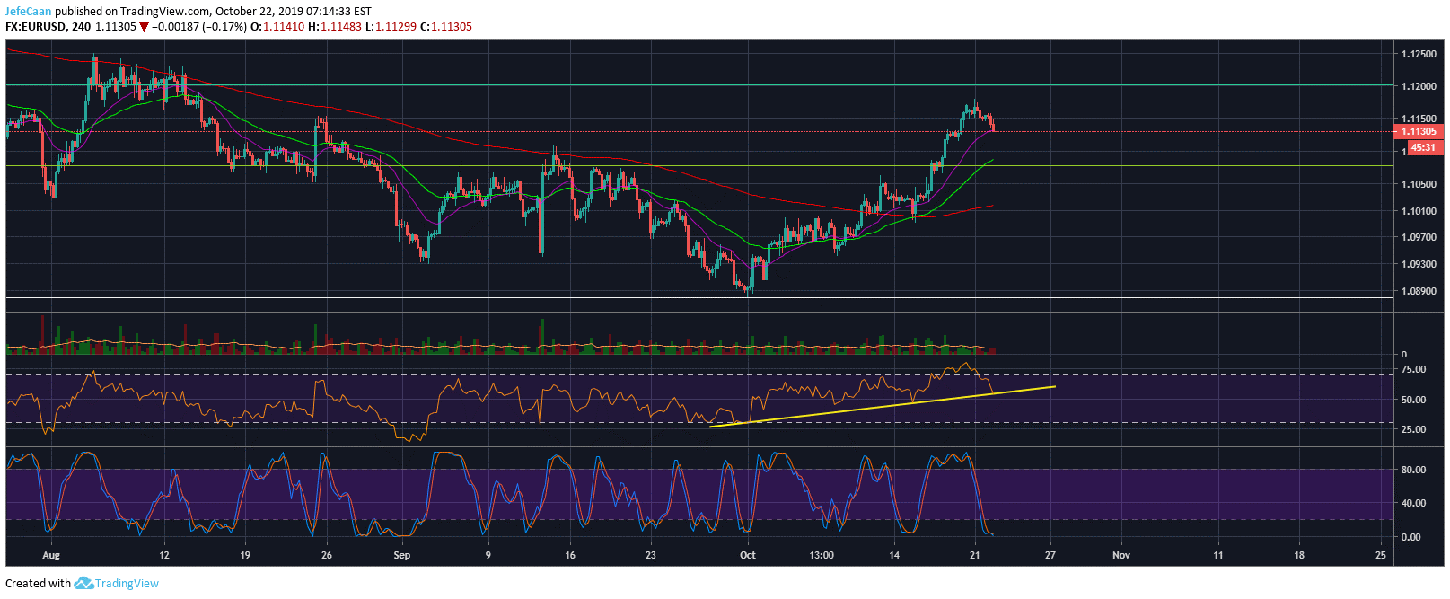 The 4H chart for EUR/USD shows us how the pair has now found support atop the 21 EMA and the uptrend that can also be seen on the RSI remains intact. It is this very likely that we see a strong move in EUR/USD that might propel Bitcoin (BTC) upwards with it because the EUR/USD forex pair has historically had a strong impact on the price of Bitcoin (BTC). As the dollar loses strength, the price of Bitcoin (BTC) goes up in dollar terms.
Recent developments have made it quite clear that we are on the verge of a major move in EUR/USD and therefore in the cryptocurrency market. The manner in which EUR/USD broke past key resistance levels was a strong indicator that further bullishness might follow in the Bitcoin (BTC) market because EUR/USD has served as a very reliable leading indicator for the cryptocurrency market in the past. We can now expect further bullishness in BTC/USD and other cryptocurrencies as EUR/USD resumes its uptrend.